Joan Konkel was born in northern California and raised in the valleys of San Joaquin and Napa, As a child and young adult, she was very close to her grandmother who had a passion for travel and took Joan along on trips from Alaska, to the South Seas, Europe, South America, Africa, the Middle East and the Orient. Joan had always gravitated toward art and her grandmother introduced her to museums and the ruins of ancient civilizations. Her junior year of college was spent in Aix-en-Provence, France, former home of Cezanne. That year was pivotal in immersing her in the works of Giacometti, Chagall, Picasso, El Greco, Lipchitz, and Leger, as well as Cezanne, and she went on to receive a bachelor's degree in Fine Arts from San Francisco College for Women and a master's degree in Sculpture from George Washington University in Washington, DC.

Konkel currently lives and works in Washington, DC. She uses aluminum sheet metal with layers of finely woven mesh to form abstract work that interacts with light. "I love working with the opposing forces of light, absorption versus reflection and refraction. Whereas metal reflects light, the mesh draws light into the piece where it bounces off every colored strand and surface. At times a bit of refracted magic takes place that gives the illusion that the piece is lit from behind the canvas. I'm also fascinated by the properties associated with mesh: its play with depth perception, formation of patterns, and the malleability of color."

Joan's artwork has been displayed in the U.S. Arts in Embassies Program at ambassadorial residences in Paris, France and Tirana, Albania and is included in private and corporate collections nationally and internationally. She was awarded a fellowship from the National Endowment for the Arts, and the Anni Albers Designer Award.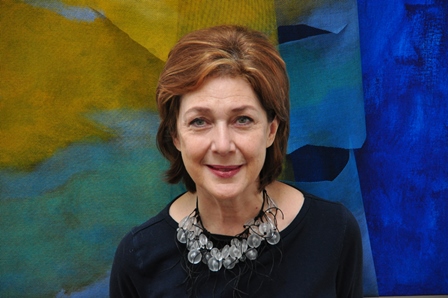 Joan Konkel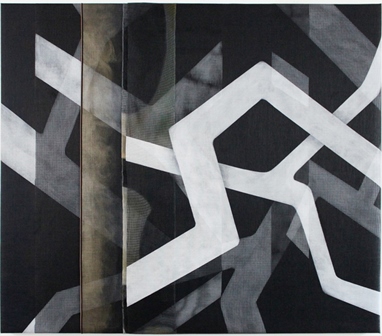 "In the Quiet" by Joan Konkel
mixed media on canvas, 52"x60"x2", 2010