Dear Friends,

Our current exhibition is a solo show for Hunt Slonem: Color and Composition. In this show we have new works and selections from Slonem's studio in a range of colors and subject matter. This year's exhibition includes the greatest range in sizes we have ever exhibited with some of the largest Slonem paintings Naples has seen down to works as small as 8"x 10".

Harmon-Meek Gallery first introduced New York artist Hunt Slonem to Naples when the gallery was still on Broad Avenue South, back in 1996. Since that time his international popularity and critical acclaim has sky rocketed. The neo-expressionist is widely known for his colorful oils of tropical birds, butterflies, bunnies, famous faces, and various other animal forms such as monkeys.

Slonem's work has become a national sensation with write-ups in the Wall Street Journal, Art & Antiques, and Architectural Digest. He has paintings in more than ninety museums and has had more than one hundred solo museum exhibitions in almost every continent. New books have been published about his work annually over the past five years.

Hunt Slonem is known for his highly textural oil paintings, often with cross-hatching, and in the past two years developed a new technique of embedding finely ground glass into the oil as it dried to create the illusion of a shimmering diamond-like surface. These works have become a sensation and are typically used on the rabbit themed paintings. We have in this year's exhibition a diverse selection of colors and sizes ranging from 8 inches x 10 inches to 6 feet by 7 feet.

The exhibition will run through February 12 with hours of 10 am to 5 pm, Monday through Friday at 599 Ninth Street North in Naples.

We also offer private showings of a wide selection of works by the artists we represent. We provide private art consultation and can bring works to your home or office within Southwest Florida. During the season we show new exhibitions regularly starting in November and running through April. Please contact us for more information.
Warm regards,
Kristine Meek
Owner-Director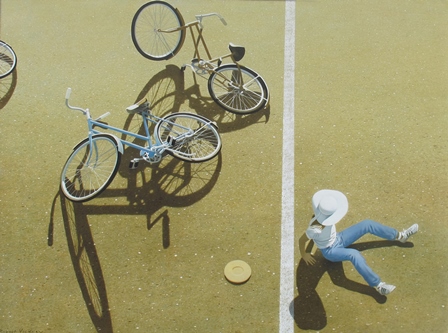 "Lunas Guardians" by Hunt Slonem oil on canvas, 36" x 48", 2015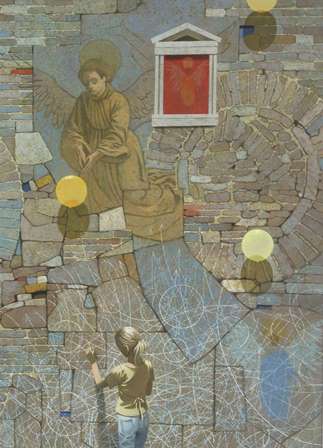 "Sparkling Waters" by Hunt Slonem oil on canvas, 10" x 8", 2015