Dear Friends,

Our current solo exhibition is for Jenness Cortez, now through March 7.

For centuries artists have challenged their intellects and skills by paying homage to the painters who preceded them. Today, Jenness Cortez has emerged as the twenty-first century's most notable exponent of this facet of art history. Her masterful work gives Cortez solid footing in the colorful lineage of artists who have appropriated vintage images and woven them into their own distinctive, recognizable fabric.

Each intricate Cortez creation challenges the viewers' intellectual curiosity and celebrates the sheer pleasure of beautiful painting. In her 2019 Harmon-Meek Gallery solo exhibition, Cortez plays author, architect, visual journalist, art historian, curator and pundit to help open our eyes to what we might otherwise have overlooked or taken for granted. Each painting presents a specific theme, mixing straightforward cues and obscure allusions, complemented by references to other artists' lives and times.

Jenness says "These paintings are a continuation and widening of my explorations into the many ways our consciousness relates to both changing cultural fashions and our essential humanity. My vehicle is always seeing, my own, and the seeing of artists that preceded me. Subject matter, color, technique and mood tell us rewarding, pleasurable stories - when we give ourselves time to look, and to look again, until we see."

We offer private showings of a wide selection of works by the artists we represent. We provide private art consultation and can bring works to your home or office within Southwest Florida. During the season we show new exhibitions regularly starting in November and running through April. Please contact us for more information.
Warm regards,
Kristine Meek
Owner-Director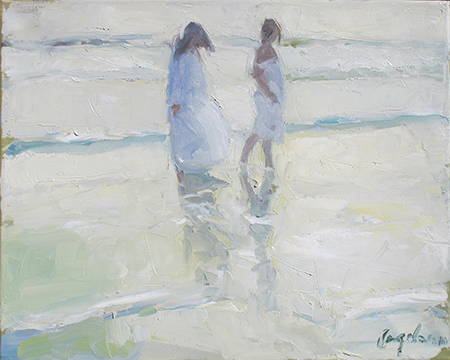 "Alluring" by Jenness Cortez
acrylic on panel, 40" x 30", 2013

View Available Works (pdf file)