Dear Friends,

Happy New Year! The first solo exhibition of the season is William Entrekin January 2 - 25.

Born to a small town in Georgia, William Entrekin was often viewed as an outsider as a child and found himself spending more and more time alone. Those days of solitude marked the beginnings of a vibrant imagination and detailed attention to the beauty of his surroundings. Entrekin describes his perspective when looking at painting as trying to "imagine myself inside it and I imagine myself breathing in it." He continues by saying that "When I can feel the crispness of the air, smell the trees or sea air around me, then I know that it's right."

The new works in this exhibition include egg tempera, oils and watercolor and the subjects range from the woods to the water, from figurative to still life.

Entrekin says about Studio Door, "While looking at this piece, you see that I am still inside the studio, but looking out the door to an unknow world. Is it the Georgia sky with clouds or sandy beach that I now look upon? I paint from the heart. I must love and have a deep feeling for the people and places that I paint!"

Regarding the watercolor, Lady Of The Lighthouse Entrekin says, "It's a cut above most watercolors as most of my work, looks almost like egg tempera. The painting has a sense of mystery about it. Who is she and why is she at the lighthouse – what has she brought in the basket? The window is cracked open enough to make me curious to let my mind wander inside."

We offer private showings of a wide selection of works by the artists we represent. We provide private art consultation and can bring works to your home or office within Southwest Florida. During the season we show new exhibitions regularly starting in November and running through April. Please contact us for more information.
Warm regards,
Kristine Meek
Owner-Director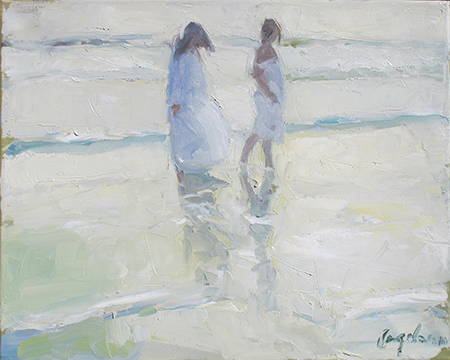 "Home Place" by William Entrekin
watercolor, 22"x36", 2018

View Available Works (pdf file)