Dear Friends,

Our final solo exhibition for the season is a memorial retrospective for Robert Vickrey. Robert Vickrey (1926-2011) was considered by most art historians and critics of the latter half of the 20th century to be the one artist who did more to revive the centuries' old egg tempera medium and to make it relevant in the modern art world. Having had more than eighty solo exhibitions in museums and represented in many more museum permanent collections, most often hanging next to Andrew Wyeth, his artistic reputation is golden.

Harmon-Meek Gallery has exhibited his paintings since the early 1970's and by 1981 became his primary gallery in the country hosting annual exhibitions for thirty years. His illustrious career included a PBS documentary film, a book about his paintings of nuns by Donald Miller, and a Hudson Hills Press book by Dr. Philip Eliasoph honoring the master.

Vickrey survived as a realist during a time in American art which was rapidly changing, constantly seeking something new about every ten years. He launched his career in 1951 the very year that the New York School of Abstract Expressionism was unleashed upon an unsuspecting public. After that he weathered Pop Art, Op Art, Color Field, Minimalism, photo-realism, and on and on. Even works that were produced by artists intending their creations to be only temporary, destroying themselves within a few decades drew more attention by the radical forces of the art world. He paid to attention to what surrounded him and strove to continue to improve his technique and come up with fresh ideas of subject matter.

Most widely known are his paintings of the Sisters of Charity or Saint Vincent nuns which he started to use as subject matter in 1949. Also the eighty portraits he painted for TIME magazine covers from 1954 to 1968, half of which are in the Smithsonian's National Portrait Gallery. The bicycle paintings were the most difficult challenges for him and the most sought after by collectors next to the paintings of nuns. Paintings on walls and shadows also played an important role in his cleverly thought out themes.

While he probably painted as many as 1,500 paintings ranging in size from 6" x 8" to 36" x 48" it is interesting just how few paintings remain in his estate – about 75. And it is also interesting just how few of these paintings have come back on the market for resale – usually fewer than ten per year. The Andy Warhol estate consists of about 94,000 works with his signature on them.

Over 80 museum collections include his works in their permanent collections including the Metropolitan Museum of Art, Whitney Museum, Brooklyn Museum, Smithsonian American Art Museum, and the Corcoran Gallery.

This exhibition is the first retrospective since the loaned exhibition to the Fort Wayne Museum of Art in Indiana in 2013. His last major museum exhibition in Florida was in 2011 at the Boca Raton Museum of Art.

The exhibition will run through April 29 with hours of 10 am to 5 pm, Monday through Friday at 599 Ninth Street North in Naples.

We also offer private showings of a wide selection of works by the artists we represent. We provide private art consultation and can bring works to your home or office within Southwest Florida. During the season we show new exhibitions regularly starting in November and running through April. Please contact us for more information.
Warm regards,
Kristine Meek
Owner-Director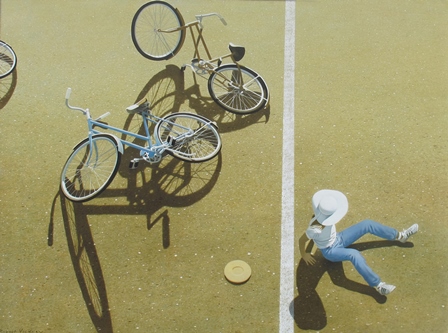 "Kim from Above" by Robert Vickrey, egg tempera, 30" x 40", 1988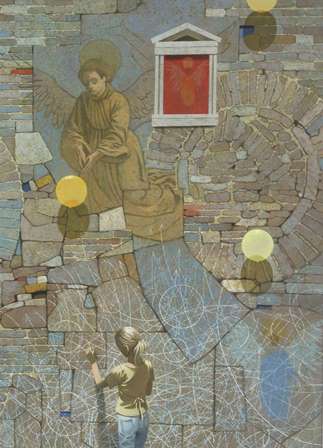 "Haloes and Balloons", by Robert Vickrey, ggg tempera, 32" x 24", 2007