Dear Friends,

This summer we are pleased to present two features: Jessica Daryl Winer and Summer in Provincetown at our gallery located at 382 12th Ave S.

Summer hours are: Tuesday-Saturday 12-4 through July 10. For the remainder of July our hours are Thurs-Sat 12-4. August and September we are open by appointment only. Regular hours begin October 5, with the start of our 59th Season in Naples!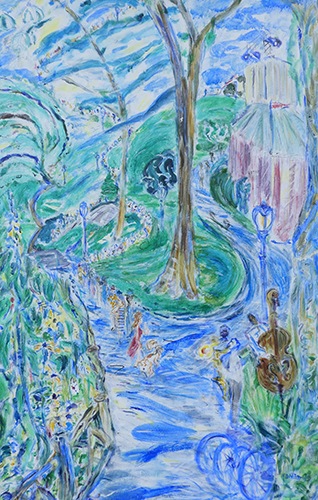 "Waiting in Line for Shakespeare in the Park" by Jessica Daryl Winer
acrylic on canvas, 59" x 32", 2021

Jessica Daryl Winer paints colorful scenes of New York, many of which depict the exciting world of the performing arts. Winer's first love is watercolor and her work on canvas reflects this with her unique technique in capturing the feel of watercolor using acrylic.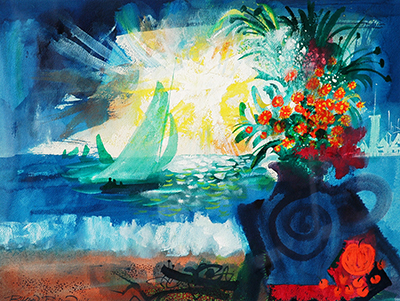 "Sun and Flowers" by Byron Browne (1907-61)
casein tempera on paper, 20" x 26", 1961
Summer in Provincetown, Massachusetts is an idyllic setting for artists with the beautiful weather and inspirational scenery. So much so that many artists would summer in Provincetown. By 1916 Boston Globe described Provincetown as the "Biggest Art Colony in the World". For over 100 years the area has operated as an art colony, making Provincetown America's longest continual functioning art colony. In the mid-century, artists were pushing boundaries with a new movement called American Modernism. The movement became so important, that Provincetown served as a starting point for many American masters and provided a bridge to New York City, the center of the art world.

Harmon-Meek Gallery has represented several artists who were influential in these artist summers in Provincetown. Our summer exhibition at Harmon-Meek Gallery pays homage to these artists and in particular American Modernism that emerged during the Provincetown summers of the 1950s. Byron Browne (1907-1961), Herman Maril (1908-1986), and Robert Vickrey (1926-2011) are our featured artists during this exhibition.


We look forward to seeing you soon!

Kristine Meek and Juliana Meek
Directors-Owners