Dear Friends,

Harmon-Meek Gallery is pleased to present this our 4th exhibition for Reynier Llanes. Reynier continues to excite us with new directions and thought-provoking works. His museum reputation continues to grow with works in the permanent collections of 13 museums.

In Reynier Llanes's words…

Chronicles is a narrative of stories that illustrate the past year, from 2020 to 2021. As an artist I am deeply influenced by our current times. There is a clear transition in style and sentiment from my last solo show "Book of Life" to my new solo show "Chronicles". The new work is influenced by the pandemic and other events that have occurred within the past year. In contrast to the inspiration for "Book of Life" which came from folklore and stories the inspiration behind "Chronicles" arises from real life events. The use of content that relates to real life scenarios, but perhaps from a more spiritual perspective gives the pieces in this new collection depth and perspective. There have been drastic changes in our lives, many things have happened in a short period of time and I feel called upon to document these things in my art, to give these stories a voice. I consider that there are iconic paintings in this collection that reflect human emotions and events and chronicle them. For example, "Suns under the Moon", "Counting sheep", "Moon's Rose", "Mom", "Seism" and "The Poet"

Human connection is empirical, and it seems that we have been pushed away from that necessary connection by situations out of our control. Our values as a society and the fact that we are the most advanced species in the world connect us, perhaps we needed to reach a crucial point in order to realize the importance of the people in our lives and give us some perspective. The solitude and devastation that we have experienced has shown us the importance of person to person connection. One of the most notable events of this past year was becoming a father. Bringing a new life into the world is the greatest gift. Parenthood makes you stronger and makes you appreciate life so much more. It makes you want to protect this new life above all else. It's ironic that this new life came about during a time when so many others were lost to a pandemic. Of all the events that occurred within the past year having a baby is by far the most significant, not just of the past year, but of my entire life.

My brush strokes, and impastos have become more emotional and freer and I am allowing myself to become more spontaneous and accepting of accidents. I am now seeing these "accidents" as essential components of the pieces. There are things in life that we cannot control, paths that we must take, and these "accidents" I no longer see that way, I see them as necessary.

Unconsciously I have created a chronicle of our lives. I hope this show awakens sensations that have been dormant. I want people to react and feel things because this work is for them. This is a collective chronicle, a search for answers or perhaps an invitation to question. Sometimes in life we are left with more questions than answers. One thing is for sure, we are not who we use to be, we have evolved, and we are better for it.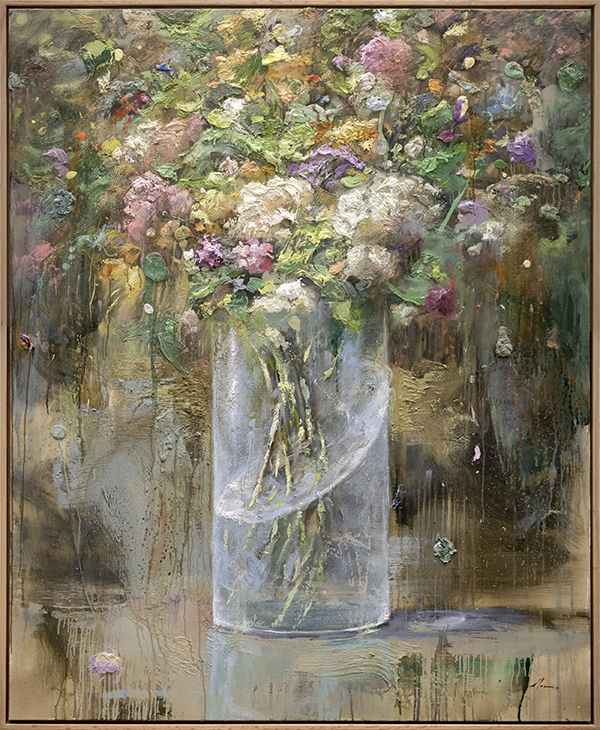 "Seism" by Reynier Llanes
oil on canvas, 59" x 47", 2021
We look forward to seeing you soon!

Kristine Meek and Juliana Meek
Directors-Owners